Zipper Access Door Installation Guide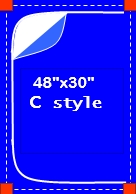 Our Zipper Access Doors are designed to be easy to install in any application.
Follow the instructions below:
Locate where you want to put the access door.
Peel the liner from the pink tape tabs on the corners of the back side of the door.
Stick the door to the shrink wrap cover where you want it.
Using 4" tape, tape all 4 sides of the door to the shrink wrap cover while trying to keep about 2" of tape on the door and 2" on the cover.
Unzip the door and cut a large hole in the cover the size of the door.
NOTICE: DO NOT SHRINK THIS DOOR!